Westside Exposure: Panel Discussion
7/4/2017
Panel Discussion
July 13, 2017
6:30 pm

Location: Westbeth Gallery, 55 Bethune Street

In conjunction with the closing of

Westside Exposure: Whitney Staff Art Show

, exhibition curators Michelle Donnelly and Melinda Lang will moderate a conversation with six artists on their work in the exhibition and their diverse artistic practices. Panelists include

Heather Cox

(Conservation), Luis DeAndre (Visitor Services), Reid Farrington (Audio Visual), Sophie Grant (Education), Justin Romeo (Administration), and Joshua Rosenblatt (Art Handling).
---
Westside Exposure: Whitney Staff Art Show
7/4/2017
Westside Exposure
June 23–July 13, 2017

Location: Westbeth Gallery, 55 Bethune Street

From its origins in Greenwich Village in 1914 to its relocation to the Meatpacking District in 2015, the Whitney Museum of American Art has remained devoted to living artists at critical moments in their careers. Many of the Museum's staff members, who provide crucial support to the development, implementation, and management of exhibitions, programs, and publications, are artists themselves. For the second time in its history, the Whitney's Staff Art Show will be held in a public space, offering staff an opportunity to share their work with a broad audience and deepen connections with the Westside community. This exhibition will include over 70 works in a wide range of mediums, including painting, sculpture, drawing, photography, printmaking, collage, and video, reflecting the diversity of artistic practice among the Whitney's talented staff.

Westside Exposure: Whitney Staff Art Show is organized by Michelle Donnelly, curatorial fellow, and Melinda Lang, curatorial assistant.

Gallery Hours
Wednesday–Sunday, 1–6 pm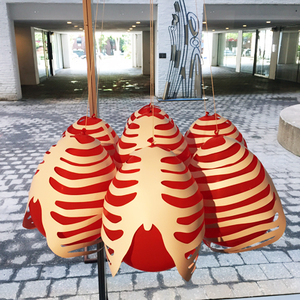 Heather Cox "Collective Breath" 2017
Balloons, paper, tape & string

---
Upcoming Show: Hat Tip
7/4/2017
LABspace and the NYC-based artist collective +1+1 announce the opening of "Hat Tip," with an artist reception on Saturday, July 15th from 5-7pm. The show runs through August 12th.
Tia Dale + Deb Todd Wheeler
Delano Dunn + Anna Ogier-Bloomer
Judith Linhares + Nicasio Fernandez
Nancy Shaver + Tracy Miller
Suzy Sureck + Amy Barkow
Karin Waskiewicz + Christian Maychack
Hat Tip is a group exhibition generated by each member of the +1+1 collective choosing an artist whose work they admire, and asking that artist to do the same, The organizing principle for Hat Tip is based on the idea that creative inspiration, provocation, and catalysts occur through relationships and connections to other creative minds. LABspace and +1+1 both value the fertility of artistic community, in Brian Eno's words the "ecology of talent" that exists through such interwoven connections.
Believing that artists know which work is best to show and which work best answers the call of the tipped hat of a colleague, the artist themselves have been trusted to choose what to exhibit. Hat Tip thus brings together artists at different points in their careers to build an exciting and unexpected visual dialogue.
+1+1 is an artist collective founded by Heather Cox, Janice Caswell, Beth Dary, Susan Jennings, Christy Speakman and Katarina Wong. The collective seeks to expand creative connections, encourage artist-driven curatorial experimentation, and spark cross-practice dialogue and collaboration.
LABspace was founded and is directed by the artist Susan Jennings. The gallery is dedicated to experiments in curation, exhibiting category-busting and/or materially surprising contemporary art, and hosting performance art, screenings, readings and music that push the boundaries of categorization, participation and/or experience.
LABspace is located 2642 NY Rt 23 in Hillsdale, NY just west of NY Rt 22 in Hillsdale, NY. Gallery Hours are Saturdays 11-5, some Sundays (check our Facebook page and/or website) and by appointment via labspaceart@gmail.com
www.plusoneplusone.com
https://m.facebook.com/plusoneplusoneart/
http://labspaceart.blogspot.com/
https://www.facebook.com/pages/LABspace/620894894642447?fref=ts